Stranger than fiction...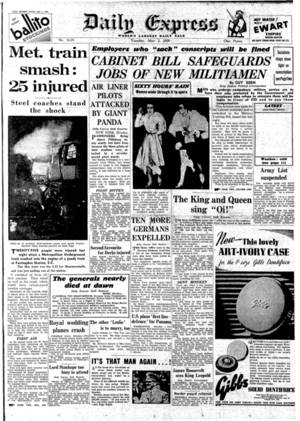 When Pandas Attack
AIR LINER PILOTS ATTACKED BY GIANT PANDA
It really is the sort of headline that grabs your attention when you are running Quality Acceptance on pages processing into UKPressOnline. I was pretty sure that I'd misread this one, but when I checked the Front Page of the Daily Express from the 2nd May 1939 I saw that I had seen it correctly:
Daily Express Staff Reporter
NEW YORK, Monday,
PASSENGERS flying
above Pittsburg today nearly lost their lives
because the three pilots of
their airplane were att-
acked by a seventy-
pound giant panda.
The Panda, belonging to a missionary
from China, was being
carried as cargo in the baggage
compartment next to the pilot's
cabin. It was tethered by a long
chain.
The plane was about to land at
Pittsburg when the panda, suddenly
lost its temper. With an
angry roar it jumped into the
pilot's cabin.
PILOT BITTEN
Captain Don Terry handed the
controls to First Officer H. Cassing
and tried frightening the animal
back into the baggage compartment,
it bit him.
Then Tommy Tomling, chief
test pilot for the airline, wrestled
with the panda. The panda won
for the moment and leaped again
into the cockpit, biting Cassing's
hands as he was setting the con-
trols for landing.
The Injured captain" and Tomling
recovered just in time and after a
struggle they subdued the panda.
Passengers, knowing nothing of
the struggle in mid-air, told their
friends they had made rather a
bumpy landing.
*The giant panda, native of
China, is a large Teddy bear with
black "goggles." First of its
species was shown in the London
Zoo at the New Year; within six
weeks it attracted 3,000 extra
visitors.
From Daily Express, Tuesday May 2, 1939
| | | |
| --- | --- | --- |
| By: digitorial02 02-Nov-2009 | Content | Last updated: 19-Nov-2009 |