Why is the Daily Express such an important title?
Launched in 1900 by Arthur Pearson as a mid-market broadsheet, the ha'penny Express was the first to devote its front page to news (rather than advertisements): "This paper is produced with the intention of supplying its readers with news. That is the excuse for its existence." Advance orders for Issue One were a million and a half copies– "absolute impossibility to supply… we are doing our best."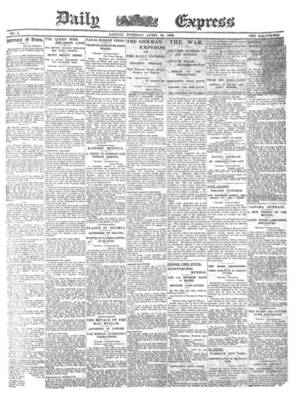 The first issue was over-subscribed
That edition began a series of articles from an Expressman in "Hayti"; another was despatched to Patagonia to search for a "giant ground sloth" – in vain, although his articles gripped readers for weeks. This policy of having "our man on the spot" became a hallmark of the Express.
When Pearson went blind, during the Great War, he sold the Express to Conservative MP Max Aitken, soon to be Lord Beaverbrook, the first "Fleet Street baron" and an evangelist of the free press – "a flaming sword which will cut through any political armour"; the paper's symbol became The Crusader.
Beaverbrook crusaded, both politically and editorially: despite personal advice to Edward VIII to give up Wallis Simpson, the Express notably chronicled every detail of their affair. And not always successfully: the Express's vehemence against Attlee was credited with losing the 1945 election for Churchill!
By 1936, the Express had the world's largest circulation of more than two million, rising to four million in the 1940s, under the seminal editorship of Arthur Christansen. It was one of the first newspapers to carry gossip, sport and women's articles; it was the first to carry a crossword. With its commercial success and vast editorial staff around the world, the Express dominated Fleet Street; as a bemused Royal wrote, "I was met by a gaggle of reporters from the Daily Express and a gentleman from the Glasgow Herald".
Express contributors run from the exiled Leon Trotsky to Evelyn Waugh (who lampooned Beaverbrook as Lord Copper – "up to a point"), William Hickey (Tom Driberg) and the cartoonist Giles.
The Express became a (black-top) tabloid in 1978.